InsightHQ is quarry management portal for your web browser or mobile device. It shows near real time productivity, availability, machine and material location via performance dashboards and reports.
InsightHQ provides visibility to respond to issues, optimize productivity, availability and performance in real time.
It provides access to live reports at your fingertips, with totals for each customer, product and machine. To view changes over time, you can adjust reports to suit either the shift, day, week, month or year.
Now with LOADRITE you can understand productivity, act immediately and see improvements during the shift, no more waiting to get back to the office.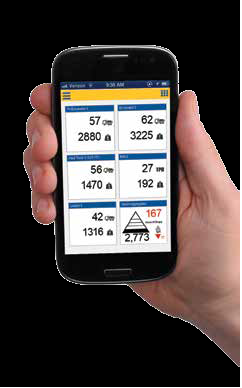 Snapshot
All your productivity and performance data available at a glance on your mobile device. Customize with the machines important to your quarry operations. Snapshot is a powerful tool to connect with fresh data, and react during the shift.
Equipment Management
See your loader, excavator, belt scale and haul truck monitor data to track the efficiency, location, productive time and productive output of mobile and fixed equipment.
Data Management
InsightHQ is a single source of data for your 'Connected Quarry' with the ability to view and control your data with ease. InsightHQ can even show a feed of raw data direct from your LOADRITE scale. InsightHQ can sync data lists with your LOADRITE scales, so you can maintain a single source for data control and increased data integrity. With access to InsightHQ via your web browser, you can share multi-level access with customers or staff without the need to install software.